CREAMY SAFFRON AND MEATBALL PASTA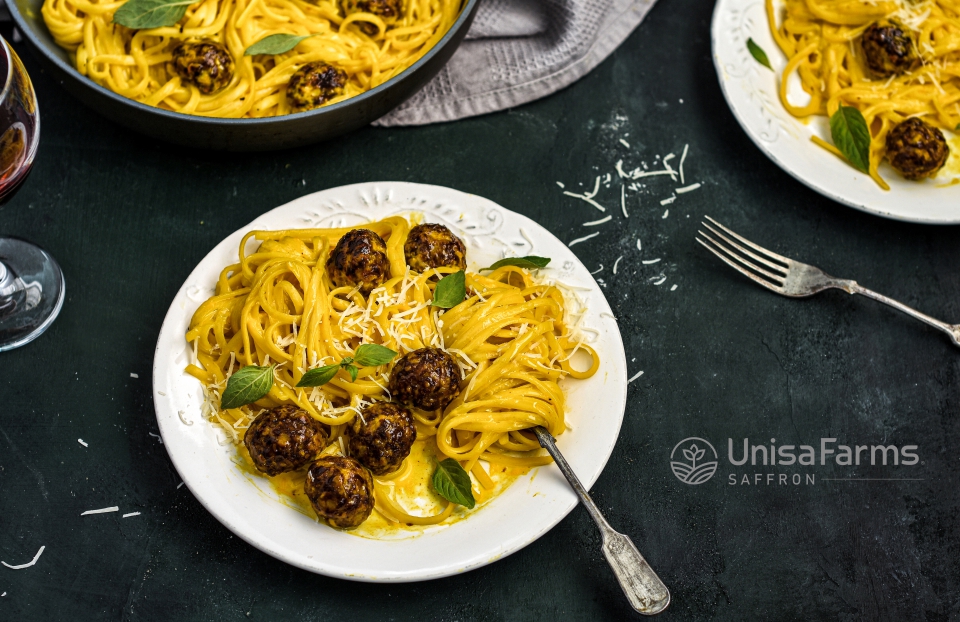 MEATBALL
450 g ground beef
1/2 cup rolled oats
1/2 cup grated parmesan
1/2 tsp onion powder
1/2 tsp garlic powder
1 tsp salt
1/4 tsp pepper
1 egg

PASTA
500 g dried linguine

SAFFRON CREAMY SAUCE
1 g saffron threads
4 tbsp boiling water
325 ml double cream
1/4 cup grated parmesan
1 tsp lemon zest
2 egg yolks
salt and pepper

INSTRUCTIONS
Preheat oven to 200°C. Line a baking sheet with foil and coat with nonstick spray. Set aside.
In a large bowl combine all ingredients of the meatball. Use your hands to mix all ingredients evenly. Using a medium scoop portion out the mixture and roll into balls. Place evenly on the prepared baking sheets. Brush meatballs with some vegetable oil and bake for 15 minutes or until browned and cooked through.

In a mortar, using a pestle, finely grind the saffron. In a heatproof jar, mix the finely ground saffron with the 4 tbsp hot water. Leave to brew for 5 minutes.

In a large pot, bring water to a boil to cooking pasta. Salt the water, add the linguine, and cook according to package directions. Drain the pasta, save 1 cup of the cooking water.

In a saucepan add the cream, parmesan, lemon zest, and brewed saffron and stir over medium heat until simmering. Simmer for 2-3 minutes. Add meatballs and cook for a further minute. Check the seasoning.
Remove from the heat and stir through the egg yolks.
Pour the sauce over the pasta and thin with the saved cooking water as needed.
Serve with some grated parmesan and basil leaves.