SAFFRON CINNAMON ROLLS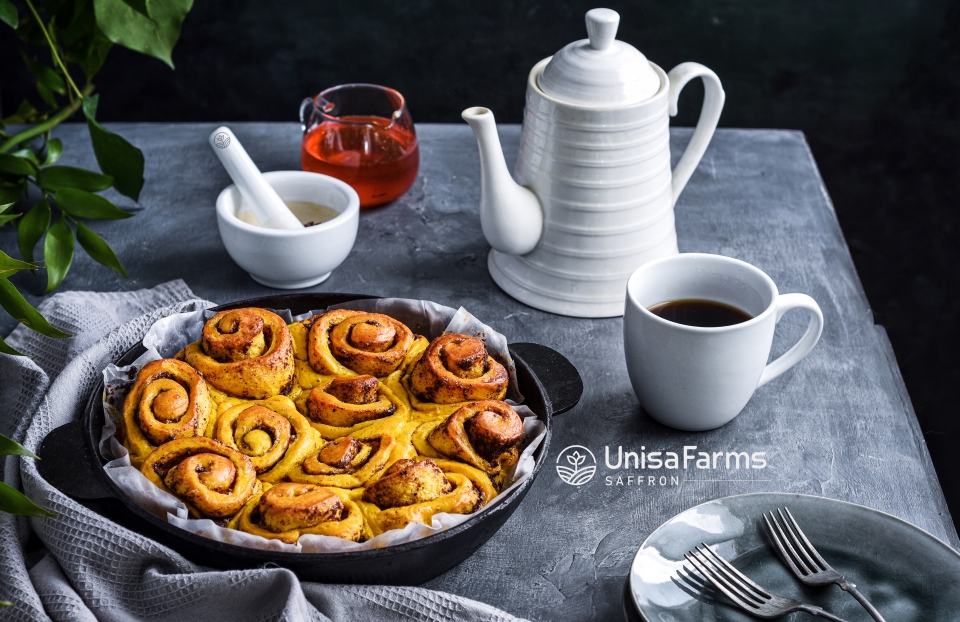 DOUGH
0,5 g saffron
1 tbsp hot water
2 1/4 tsp active dry yeast
1 cup milk
1/3 cup granulated sugar
2 3/4 cups all purpose flour
1/2 cup unsalted butter, in room temperature
1/2 tsp salt

FILLING
1/2 cup unsalted butter, in room temperature
1/4 cup light brown sugar
1 tbsp ground cinnamon

SAFFRON SYRUP
3 tbsp granulated sugar
3 tbsp water
0,5 g saffron

EGG BRUSH

1 egg
1 tbsp milk or water

INSTRUCTIONS
Combine saffron and 1 tbsp. hot (not boiling) water in a small bowl. Let stand for 5 minutes.
Whisk the flour, sugar, salt, and yeast together in a large bowl. Set aside.
Combine the milk, and butter together in a heatproof bowl. Microwave or use the stove and heat until the butter is melted and the mixture is warm to touch. Add brewed saffron. Pour into the dry ingredients, and stir until it forms a soft dough or use a stand mixer.
On a lightly floured surface using floured hands, knead the dough for 3 minutes. Place in a lightly greased bowl, cover, and let rest for about 1 hour or until it doubled in size.

FILLING
While the dough is rising, combine butter, sugar and cinnamon in a medium bowl and beat until fluffy. Set aside.

SHAPE THE DOUGH
Grease or line a large frying pan. On a floured surface, roll your dough out into a long rectangle. Spread the filling evenly over the dough. Roll up the dough tightly. Cut into 10-12 even rolls and arrange in prepared frying pan.
Tightly cover the roll with plastic wrap or a clean kitchen towel. Let rise for 45 minutes.

While the buns are rising, prepare the syrup by combining sugar and water in a saucepan. Let the mixture come to a boil and simmer until sugar has melted. Add saffron and set aside to cool.

Preheat the oven to 375°F (190°C). Whisk together egg and milk or water in a small bowl. Brush the buns with the egg mixture. Bake for 25-28 minutes or until the rolls are golden brown. Brush the rolls with the saffron syrup. Let cool for 10-15 minutes before serving.